Excellent pool remodeling company
I really enjoyed doing business with OceanBlu Renovations. I spent several months getting quotes for the pool remodel work I wanted to have done. The old pool had plaster interior that was stained, etched, and cracked; small blue tiles on the tile line that were falling out; the pool deck was deteriorating; and there was a section of the pool deck that was separating from the tile line. All the estimates I received from other companies had this remodel at least $10k + above my budget and lots of "excuses" as to why this and that had to be replaced even though something wasn't broken. I'm new to TX and owning a pool, but it amazed me how all these remodeling companies wanted as much for a remodel as the ads I saw for new pool s, and I wasn't looking at anything fancy. With Oceanblu, I was able to get the basic remodel that I wanted and some upgrades for close to the budget that I had. During the project, the crews that came by cleaned up after themselves very nicely and came in and did their work … If someone was unsure about anything, I was asked what I wanted. Whenever I had questions or concerns about the work or work schedule, I could email or leave a phone message with Tim and he got back to me quickly with answers and updates. My pool now looks like a brand new pool.
All the Best,
Mrs. Houston.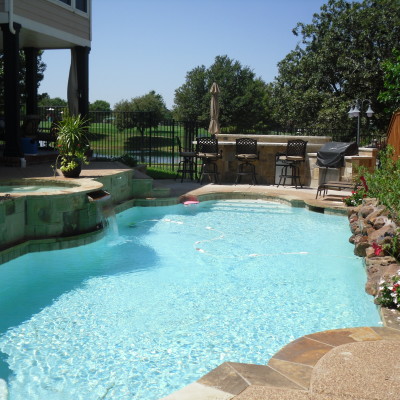 Tim was a delight to work with, he did a great job and it was a pleasure to work with him. We are extremely happy with the new look and beautiful pool we enjoy so much."
Plano, TX -
Pool Resufacing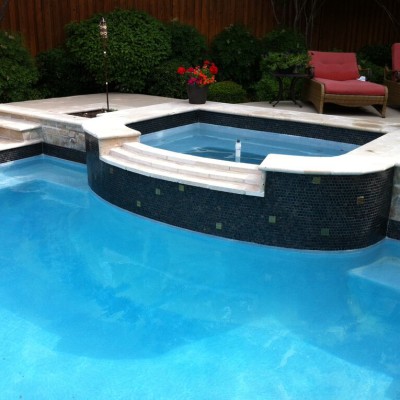 "We are very proud of our pool and spa and can't say enough about what a pleasure it was working with you. Again, Tim, many thanks for our beautiful new backyard."
Grapevine, TX -
Pool and Spa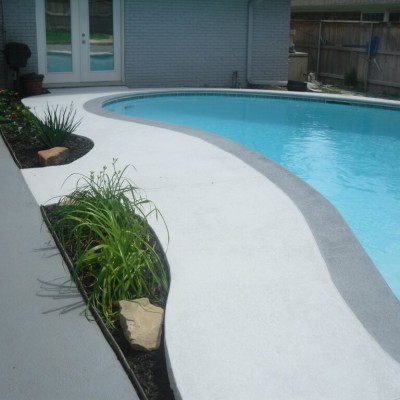 To whom it may concern, We recently had the opportunity to work with Tim and OceanBlu Renovations on the resurfacing of our pool's decking and pool renovation. This was our first encounter with Mr. Charlton and his company and assuredly not the last! Tim was very responsive to our call and arrived at our home the next day to review our needs and present a proposal. Our work was scheduled within two weeks of his visit, and he was very understanding and flexible in arranging to work in our timeframe, based on our needs. The work was completed on schedule, and we are very pleased with the overall quality and services OceanBlu provided. Once again, we appreciate the opportunity to provide our recommendation of OceanBlu and would be glad to discuss our experience with this company at anytime. Sincerely; Ruth Jorgenson
Frisco, TX -
Deck Resurfacing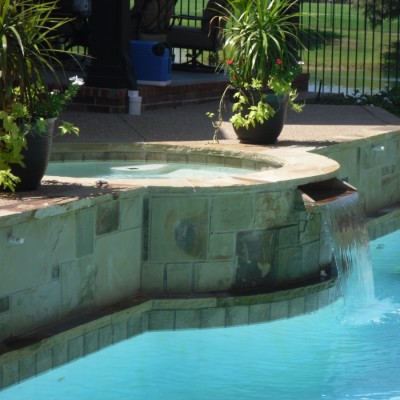 Tim, Thanks for the great job on our recent pool remodel. We love our new pool! We contracted with OceanBlu for a pool remodel, including new decking, pool resurfacing and tile work, and a new pool filter. The price quotes came in well below several other companies who we contacted, and the customer service was outstanding throughout the job. We were impressed with the professionalism and attention to detail of the work crews, and the job was completed on time and on budget. We enthusiastically recommend OceanBlu Renovations! Sincerely; Ben and Julie McKee
Our original pool deck was poured concrete that was cantilevered over the edge of the pool (no coping). A former homeowner applied a spray-on surface coating to "hide" lots of cracks & repairs. This coating was now chipping away and color …
read more
via